From top-quality young plants to flexible collaboration
Kwekerij Bloemendaal is a preferred supplier of young plants for many growers. They come back season after season for our conifers, which are delivered in perfectly tended, uniform batches. Free of weeds and diseases, well-rooted, pruned, compact, and finely branched. Just the plant you need for a carefree start to a new season – minimal sorting, minimal downtime, maximum growth. Ready to progress to P13 to P19!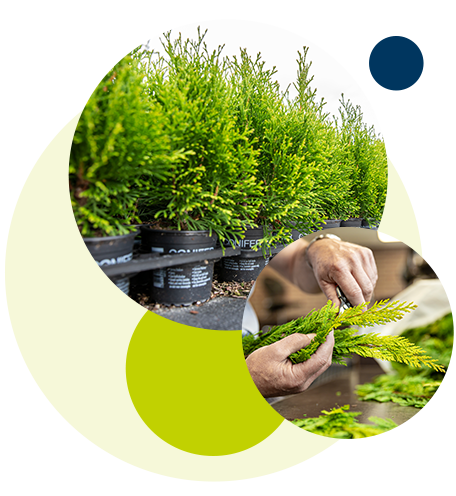 Your challenge
But the high quality of our planting stock isn't the only reason that growers consider us a partner. It's the teamwork that makes the difference. We work together to achieve the best possible response to market demand. After all, even the most beautiful conifer is no use to your nursery if there's is no demand for it. Your challenge is to assess market developments and attune your production to future demand. That's no easy task when you're working with products that require a year or more of cultivation.
A question of teamwork
We use our market knowledge to assist you, and together we put together a well-thought-out list of recommendations for potting and striking cuttings. This list is then used as a starting point as we help you to respond to customer demand. Our wide assortment of products and the potential markets available via the retail channel allow us to be flexible in fulfilling our agreements with you. That's what we mean by teamwork. We really are: meeting demands together.